Are You Using Your Parking Brake the Wrong Way?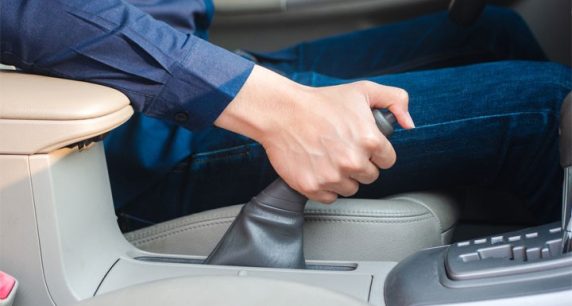 10 November, 2022
Using your parking brake to prevent your car from rolling is important if you have a manual transmission. However, if you have an automatic transmission, you could believe that your parking brake is reserved for emergency situations, such as a steep incline or a slippery road, therefore the alternate name "emergency brake."
It's a fact that many motorists are unaware of proper emergency brake usage. You might be one of them if you don't use yours every time you park.
Here are some reasons to use your e-brake every time you put your car in park since we are aware that this may be brake-in news.
WHY DO I NEED TO USE MY PARKING BRAKE?
Your parking pawl, a hammer-shaped pin, is released into one of the grooves in your transmission gear when you put your car in park, preventing it from rotating. This little pin is the only thing preventing your 2-ton vehicle from rolling away without you until you apply the parking brake.
Your transmission and parking pawl endure a lot of needless stress when you don't utilise the parking brake. This pressure can cause your parking pawl and transmission to wear down considerably more quickly than the manufacturer intended, necessitating costly repairs and increasing the likelihood that your car will roll away like a bumper-busting shopping cart. Keep your money in your wallet and your automobile in its proper place by applying the parking brake!
WHEN SHOULD I USE MY PARKING BRAKE?
It's easy to know when to apply the parking brake. Just check to see if you're putting your car in park. Pull that lever (or press that button), whether you're filling up at the pump or parking on a friend's sloping driveway, if the response is yes.
Although the term "emergency brake" may have in the past been misleading, you now understand that your parking brake does more than just prevent your automobile from moving. Additionally, it protects your transmission from needless deterioration. Therefore, always apply the parking brake for the sake of both your automobile and your cash.
WHAT SHOULD YOU DO IN CASE OF A STUCK PARKING BRAKE?
Your car's parking brake may become stuck over time as a result of environmental exposure and other factors. For instance, corrosion in the parking brake wire may result in your parking brake locking up and failing to operate.
Try to get your parking brake system fixed as soon as possible if it is jammed.
Although it may be tempting, it is not suggested to attempt to fix the locked-up parking brake on your own.
Without the appropriate equipment (such as jack stands, wheel chocks, lubricants, etc.) and knowledge, you might not be able to accurately identify and resolve your parking brake issues.
Turn on Your Car
When you turn on your car, it will heat the engine. When the engine heats up, it might melt some of the ice that is causing your parking brake to be stuck.
Rev the Engine
To heat the engine faster, you can try gently revving the engine. This may speed up the process but melting a frozen parking brake will take some times so don't be in a big rush.
Try Disengaging it Again
After trying the two tips above, try releasing and applying the parking brake to break up whatever ice is left over. Once you can release the parking brake all the way, your car is good to go. If it is still stuck, there may be a chance that your parking brake isn't frozen. There could be something else wrong with it, we recommend booking your appointment with us as soon as possible so we can figure out why your parking brake is really stuck.
MY PARKING BRAKE IS RUSTY OR CORRODED
Parking brakes don't always fare well with time. Your parking brake could rust or become corroded over time, causing it to jam. You might be able to adjust the parking brake on your own, depending on how far the rust has advanced. To get your parking brake unstuck, you will typically need professional assistance.
APPLY AND RELEASE THE BRAKE AGAIN
Applying and releasing the brake repeatedly will sometimes remove even a small amount of rust. This can be impossible to do if it's too stuck.
ALTERNATE BETWEEN DRIVE AND REVERSE
Another thing you can try is release the parking brake and slowly put your car in drive and inch forwards, then put it in reverse and inch backwards. Sometimes this is enough to dislodge the rust. But most of the time, you won't be able to release the brake at all, so you should see a professional for help.
I APPLIED MY PARKING BRAKE FOR TOO LONG
Long-term use of your parking brake could cause it to become stuck. This might be brought on by changes in temperature or other elements. Overnight is the maximum amount of time that your parking brake should be engaged. You might be walking on thin ice after that. Try the strategies for a frozen parking brake in this situation as it may be frozen.
If you intend to leave town for an extended period without your car or just won't be using it for a while. To avoid this problem, attempt to park in a level spot and refrain from applying the parking brake.
MY PARKING BRAKE IS JAMMED
You might have unintentionally jammed the parking brake if you used the brakes too firmly. To prevent further harm to your car, you should get professional assistance if you can't gently try to release a jammed parking brake.
CLOSING THOUGHTS
When engaged, the parking brake holds your parked car in place.
However, your parking brake may begin to deteriorate and lose its efficiency if it is not used. Try to apply the parking brake each time you park your car to make sure it continues to function as it should.
Additionally, you can need parking brake service if your parking brake becomes stuck for whatever reason.