Forward Collision Warning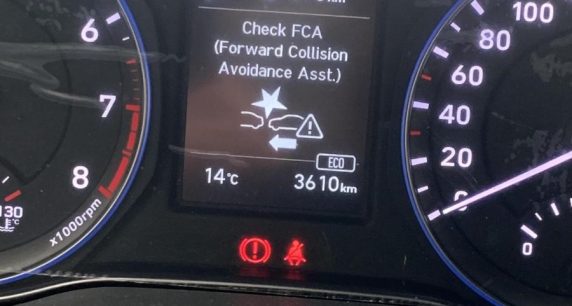 07 September, 2022
Forward collision warning can alert you of an impending collision with a slower moving or stationary car in front of you.
WHAT IT DOES:
Designed to alert you to a hazard ahead so that you can brake or swerve in time.
WHAT IT DOES NOT DO:
Forward collision warning alone will not automatically brake for you.
HOW IT WORKS

Forward collision warning scans the road ahead while you drive. It's designed to warn you if you're about to crash into a slower moving or stopped car. Some features can detect other objects, but check your owner's manual to make sure you understand its capabilities.
THE TECHNOLOGY BEHIND IT
Sensors located in the front of your car are able to detect how close you are to cars in front of you. These typically are camera- or radar-based. Warnings can come in the form of sounds, visuals, vibrations or a quick brake pulse; or, a mix of warnings.
WHAT YOU NEED TO DO
Always be a cautious driver and keep a safe following distance from the traffic ahead of you. However, sudden braking might be needed at any time. Forward collision warning is designed to alert you to a hazard ahead so that you can take action in time. If you are warned by the system, prepare to brake or steer quickly.

TIPS FOR USING
Your forward collision warning feature's sensors can be blocked by ice or snow, so be sure to clear any build-up off your feature's sensors before you begin driving.
If you aren't sure where your forward collision warning's sensors are located, you can always check your owner's manual or with your dealership.
Some forward collision warning features are vulnerable to glare at sunrise and sunset, so don't rely on this feature exclusively. Always pay attention to the road ahead.
WHAT ELSE IS THIS FEATURE CALLED?
Different manufacturers call this system different names. You may see it referred to as:
Pre-crash system
Forward crash warning
Collision mitigating system
Collision avoidance system
Forward collision avoidance system
Rear-end crash avoidance system
Automotive collision avoidance system
DOES THIS FEATURE BRAKE MY CAR FOR ME?
Newer forward collision warning features with automatic braking may also brake your car in an emergency. While this capability is becoming more and more common in many new cars today, not all earlier versions of forward collision warning can slow or stop your car automatically.