How to Jump-Start a Car?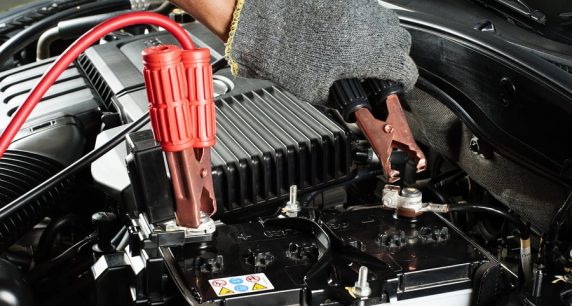 20 April, 2022
You turn on your car, but it doesn't start. The battery is dead. No big deal. We'll show you exactly how to jumpstart your car with this guide.
While jumping a dead battery is super simple, you'd be surprised by the number of men who have no idea how to do it. And even if you have learned how to jump start a car before, it can be easy to forget what cables go where. Positive or negative? Ground the positive cable on the car with the good battery? Red cable is negative?
To help you avoid looking like a puts when asked to jump start a car and to help prevent you from shocking yourself when you do it, this article offers a complete multi-media rundown on how to jump start a dead car battery.
HOW TO TELL IF YOUR BATTERY IS DEAD
Before you try jump starting a car, you need to determine that the battery is the reason the car isn't starting up. If you turn the ignition and hear the engine cranking, a dead battery isn't your problem and jump starting it won't do a darn thing. However, if you turn the key and the car does absolutely nothing, then there's a good chance you have a dead battery on your hands and jumping it may be your ticket to getting back on the road.
KEEP THE FOLLOWING IN YOUR CAR AT ALL TIMES:
Jumper Cables: The longer, the better!
Mechanic Gloves: Disposable gloves at the very least, but heavy duty offers more protection
A Flashlight: Always handy to keep in your car!
Paper Coveralls: Protection for your clothes – paint stores usually carry these
Owner's Manual: You can often find this in your car's glove box
TO JUMP START A CAR WITH CABLES, FOLLOW THESE STEPS:
Make sure both cars are turned off.
Connect one end of the red (positive) jumper cable to the positive terminal on the stalled battery.

Connect the other red (positive) cable to the positive terminal of the good battery.

Connect one end of the black (negative) jumper cable to the negative terminal of the good battery.

Connect the other black (negative) cable to a clean, unpainted metal surface under the disabled car's hood.

Somewhere on the engine block is a good place. Unless you want to see flying sparks and a possible explosion, do not connect the negative cable to the negative terminal of the dead battery.

Start the car that's doing the jumping; run for 2 to 3 minutes before starting dead car.
Remove cables in reverse order.
Keep jumped car running for at least 30 minutes to give battery sufficient time to recharge.

HOW OFTEN SHOULD YOU CHANGE A CAR BATTERY?

On average, batteries last between 5 and 7 years but you should only consider changing a car battery when it's showing signs of deterioration.

If the battery's more than 5 years old and seems like it's struggling to start the car, get it checked out. It's better to be safe than sorry – it'll be worse if it's a roadside emergency or on a cold morning when you're already late for work.

If you have breakdown cover with us, we'll come out to test your battery to see if it needs a charge or if you need a new one. You can find out more about breakdown cover with our guide.