How to Remove Scratches from the Body of the Car?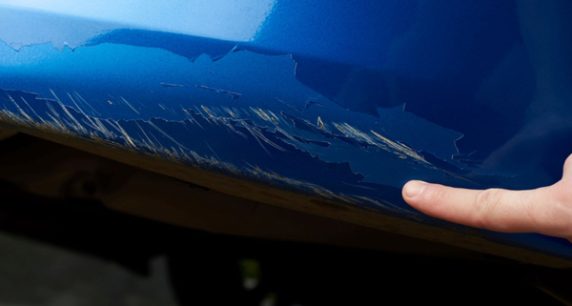 12 May, 2022
Fixing car scratches might seem like a very difficult task. But you should know that with proper knowledge of the techniques and the material to be used, no task is impossible. We know that as car owners, the last thing you want on your car are scratches. It hampers the way your beloved vehicle looks.
In this blog, we have provided you with the home remedies that will help you resolve light scratches from your car's body.
The remedies are:
Shoe polish – Using shoe polish is a very popular technique when it comes to fixing car body scratches. But it should be noted that first examining the scratch and area before applying anything on it is a must. First you should wipe the scratched area with soap and water and make it as dry as possible. Then, a shoe polish that is darker in colour than that of your car paint will be required. After applying the polish on the affected area, it will spread out and fill in the small scratch or dent on your car body.
Toothpaste – This is another material that can be used to get rid of scratches or dents. Toothpaste is very useful when it comes to removing scratches as it has a natural aversive component which helps to erase the minor dents and scratches. You can put some of it on a toothbrush and apply it on the scratched areas of your car body. Applying it in circular motion or strokes is considered the most effective technique.
Nail polish – People often are unaware of the fact that nail polish can be used as a scratch remover. You should first clean the area before applying the nail paint. It basically covers up the scratched area instead of removing the dent. Additionally, we know that nail polishes come in various colours, so it will be easy to match the colour with your car paint.
Candle wax – Besides the supplies listed upon, candle wax also is an effective scratch remover. It basically covers up super light scratches on the car paint. But, before applying it, make sure that the area is clean. After that, you should gently rub the candle wax on the damaged area to resolve the issue. Experts, however, consider this not to be a long-term solution.
By now you should know all the home remedies that can be used to get rid of car scratches. We also advise to not rely on such remedies if you are looking for a permanent solution, as these are really temporary solution that never look as good as real auto body work. In that case, you should take your car to an automobile maintenance and repair auto body shop and have the issue fixed.