Symptoms of a Bad Ignition Coil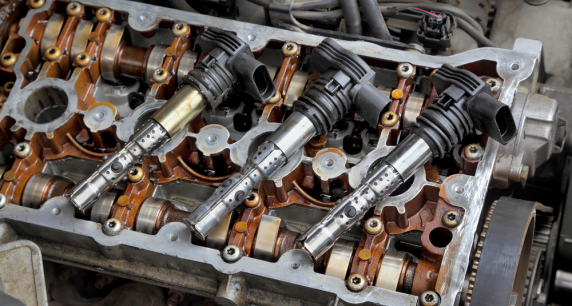 25 May, 2022
Most cars on the road today have internal-combustion engines that require fuel, air, and electricity to run. On modern vehicles, the ignition coil plays an important role in supplying the electrical component to that equation. As such, if you have a faulty ignition coil, your engine will not run properly. Even worse, it may completely stall. As such, it is important to know how to identify bad ignition coil symptoms.
Ignition coils must be in good condition and performing properly for a vehicle's engine to run correctly. As such, if your engine is not performing like it usually does, a faulty ignition coil may be why.
BACKFIRING

Backfiring caused by your vehicle can indicate the symptoms of the ignition coil failure in its early stages. Car backfiring occurs when the unused fuel in the combustion cylinders of the engine leaves through the exhaust pipe.If this problem is left unchecked, then it can result in costly repairs. The backfiring problem can usually be detected by the emission of a black smoke through the exhaust pipe. The smell of gasoline in that smoke may also give away the ignition coil failure.
POOR FUEL ECONOMY

Another sign of a faulty ignition coil is poor fuel economy. If your vehicle is getting noticeably less mileage than it was before, then it could mean that an ignition coil failure has occurred.
ENGINE MISFIRING

Engine misfiring will be seen in a vehicle whose ignition coils have failed. Trying to start the engine of such a vehicle will result in engine misfiring that sounds like a coughing, sputtering noise.When driving at high speeds, jerking and spitting will be seen in the behaviour of the vehicle. A vehicle with a failed ignition coil will also result in vibration when it is idling at a stop sign or light.
VEHICLE STALLING
Ignition coil failure may also result in the stalling of the vehicle. This can occur because of the irregular sparks sent to the spark plugs by the faulty coil. Your car may shut off completely when brought to a stop leaving you with the trouble of it hopefully restarting.
ENGINE JERKING, ROUGH IDLING, POOR POWER
Another symptom is rough idling of the engine, jerking, and hesitating while accelerating. It will feel like your vehicle is missing some power when driving.
 CHECK ENGINE LIGHT ON / DTC CODE

Often, the check engine light will turn on in your dash. Most commonly, engine code P0351 (Ignition Coil – Primary/Secondary Circuit Malfunction) is what shows up when scanned using a car diagnostic tool. Scanning for the error code is probably the easiest way to trouble shoot a coil issue, so if you see that check engine light, grab your scan tool or have a repair shop confirm.
ENGINE HARD STARTING

A hard to start engine is a symptom that will occur especially if your car uses a single coil. If the coil has a malfunction, it means the engine will be cranking without sparks inside the cylinders. At times, it may start but then die right away.
TYPES OF IGNITION COIL
There are many different types of ignition coils that you should be aware of when trying to fix an ignition coil problem. For example, here are three different ignition coil types:
Coil-On-Plug (COP)
Coil-Near-Plug (CNP)
Coil-Per-Cylinder (CPC)
The most common system, with multiple coils, is Coil-On-Plug (COP). There is one ignition coil per cylinder, with each coil connected to the spark plug. If there isn't enough room for a COP, perhaps because the spark plugs protrude from the cylinder head, then you might have a CNP setup. In this case, the coils would be attached to the plug by short plug wires.
Depending on whether you have a COP or CNP system, you'll have to check for problems with your ignition coil in different ways, as we'll detail in the next section.
WHY DO IGNITION COILS FAIL?
Most ignition coils are durable components, but they are neither indestructible nor designed to last forever. Ignition coils tend to fail because of bad spark plugs or plug wires. If your vehicle's fuel-to-oxygen mixture is either rich or lean, therefore, your ignition coils may fail prematurely. Additionally, engine heat and vibrations can cause damage to ignition coils. Nevertheless, on most vehicles can go from 100,000 km (~62K miles) to 160,000 km (~100K miles) depending on the vehicle and driving condition among other factors.
CAN YOU REPAIR A BAD IGNITION COIL?
A faulty ignition coil cannot be repaired; it must be replaced with a new one. However, in some cases, if the ignition coil has been contaminated due to an oil leak in the spark plug tube/well and the end of ignition coil boot has not become mushy, you may be able to restore its functionality by cleaning it with an electronic cleaner or MAF sensor cleaner. Nevertheless, if you see corrosion or rust on any ignition coil, it must be replaced.
CONCLUSION
If you see noticeable loss of performance or engine hesitation with high fuel consumption in your vehicle, you should definitely check the ignition system of your vehicle including spark plugs, ignition coils and their connectors/wires.
In any case, it is advisable to visit a workshop. A professional mechanic can swiftly diagnose the problem for you.